The Department of Air Transport Engineering of the Faculty of Transport, Warsaw University of Technology and the Students' Scientific Association of Air Transport (SKNTL) are delighted to announce the International Scientific Conference Air Traffic Engineering 2018 which will be held in Radziejowice, Poland 40 km away from Warsaw on the 17th and 18th of April 2018.
The main aim of the conference is to discuss and overcome present challenges facing air traffic engineering. ATE 2018 will be a unique chance to meet aviation experts, exchange views and publish current research results.  The conference is intended for researchers as well as scientists and students interested in international collaboration. We expect at the conference around 80 participants from top Polish and European universities.
About ATE 2018
The ATE conference is organized every 2 years since 2010. After four successful Polish editions, in 2018 the Air Traffic Engineering Conference will move on international level. Among the topics of the conference are: safety, reliability and risk analysis in air transport management systems;  human factor in air traffic engineering; new air navigation technologies; airport planning;  air transport, railway and road transport management systems; modern ways of defence in terms of cyber threats in aviation; law and economical aspects of air transport; ; unmanned aerial vehicles – management and control. The upcoming International Scientific Conference Air Traffic Engineering will be held under the honorary patronage of Warsaw University of Technology.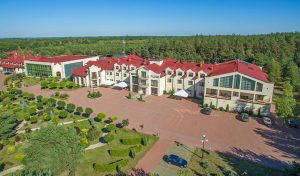 For the first time Hotel Kawallo in Słubice near Płock, Poland will be the conference venue. The location is situated 100 km north-west from Warsaw.
Please consider sending your submission and article abstract for the International Scientific Conference Air Traffic Engineering 2018 within 30th of November 2017. We hope to have your name among authors and participants. After receiving the full texts, not later than on the 16th of February 2018, The Scientific Committee will begin the review process. All accepted papers will be published in the conference monography, however it is required to present them on one of the plenary or poster sessions. Best papers will be additionally recommended by the Scientific Committee for publication to Archives of Transport, Journal of Kones, Magazine of Aviation Development and International Scientific Journal of Air Transport.